WHEEL ALIGNMENT | Auto Repair Shop Stockbridge Ga | Call Us
Don't let your vehicle fight you as you steer drive it down the road.  Do you find evidence that your tires wear out much faster than normal?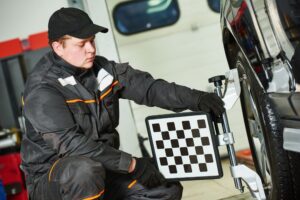 If so, you may be in desperate requirement to have your car's wheels aligned.
A wheel alignment is the measurement of the relationship of the car to its wheels. When correctly aligned, the wheels hold still in the right direction. Without properly working alignment, the wheels sort of fight your steering controls and commands, as well as each other. Wheel alignments that are not set correctly can also negatively impact fuel consumption and tire wear.
As you know, it is the tires of your car that actually make contact with the road, with this in mind any out-of-balance affects riding performance, safety, traction, handling, and vehicle control.
Maintaining your tires to their correct air pressure levels and rotating them every 6,000 miles will increase the lifecycle of your tires, and aid in maintaining sharp handling in all driving circumstances.
Our innovative, state-of-the-art computerized wheel alignment equipment can secure you receive a computer printout of your car's wheel alignment specifications and conditions.
Alignment services:
* 2 & 4 Wheel Alignment
* Front-End
*  Axles – CV
* Ball joints
* Suspension
* Tie-Rods
* Brakes jobs
* Struts
* Shocks
A proper wheel balance & wheel alignment is indeed a vital aspect in your overall car maintenance program ensuring you get the greatest performance and wear from your vehicle's tires. Also, wheel alignment provides you with increases in mileage all while adding a smooth, comfortable, enjoyable, trusted ride experience that is free of sny pulls, drags, vibrations or bumpiness.
Correct and sharp four-wheel alignments are a must for today's suspension systems on your vehicle and this can mostly only be provided by allowing our technicians to service your car with our modern equipment and computers. See our special prices where you can save some money on these vital up-keep services – Click Here 
A properly functioning wheel alignment:
* Wholly improves upon the lifespan of your tires
* Ensures the best handling available
* Causes your car to drive better and safer
* Enables your automobile to be much more fuel-efficient
Correctly balanced and aligned wheels will improve your set of tires by multiple thousands of kilometers (miles), so achieve the most out of your tires by scheduling your wheels to be balanced & serviced today! We are ready to assist you by reaching out to us at (678) 698-0604.
We also have some other tips and maintenance insights for you to check out here.