ENGINE REPAIR | Auto Repair Shop Stockbridge Ga | Call Us
Are you experiencing issues with your car's engine? Does your vehicle overheat routinely? When does your check engine light come on, daily, weekly, etc?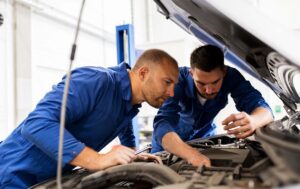 It is always a frustrating and dreadful feeling to have your car in need of engine repair —and better yet, why does it always happen at the most inappropriate occurrences.
Any type of bad idling or when the power out stifles, you are definitely in need of some type of engine repair – but do not worry – we can help, so call or bring it by our auto repair shop ASAP.
What we have found is that the ample number of full engine rebuilds could have been greatly avoided if simply the vehicle was looked over by an expert technician from a top repair shop like X-pert Auto Care. Want to save money and reduce auto repair headaches, then be certain to have your vehicle examined by an honest and qualified mechanic trained to diagnose the engine's problem and ultimately reduce your worry and the funds needed to address the engine problem.
X-pert Auto Care's Vehicle Engine Repair Services include:
* Full or Partial Engine Repair
* Complete Engine Rebuilds
* Engine Repairs & Replacement
* Vehicle Coolant Flushes
* Engine Manifold & Exhaust Work
* Carburetor Maintenance & Repair
* Car Battery Check, Repair & Replacement
* Auto Water Pumps
* Auto Fuel Pumps
*Vehicle Engine Starters and Alternators
* Belts and Hoses
The easiest road to a long-lasting car engine starts with routine maintenance and special attention to your vehicle's engine performance.
To take part in some of our special pricing in these areas, visit our exclusive section here.
Why work with X-pert Auto Care?
* Free quotes and cost estimates which will accompany quick, expert service
* Expertly trained, licensed, and experienced technicians
* Vehicle emergency repairs
* We are your total auto repair services facility
Our number one priority is getting your vehicle back to you in a stable working condition. Let us help you. Contact us at (678) 698-0604.
It is with a warm thank you that we are happy you stopped by our site, we also have some tips and maintenance insights for you to check out here.